Rationalization Grid provides a systematic approach for identifying new product opportunities. Becker Pharmaceuticals' proprietary service consists of seven steps:

1. Introductory team meeting - Assembling key participants ensures that all team members share the same understanding and are equally committed to successfully completing the project.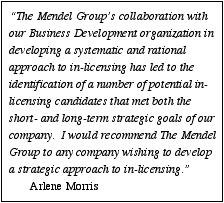 2. Medical needs matrix - This step encompasses the evaluation and assigning of weighted rankings to variables such as incidence trends, prevalence, mortality, products on the market, and drugs in development.

3. Medical entity matrix - Another matrix is produced from the evaluation of your company's capabilities and resources. This phase delivers a ranking of disease targets and also ranks medical entities.

4. Consensus-building workshops - These sessions review objectives and analyze company tactics in the context of interim decisions pertaining to medical needs and medical entity targets.

5. Strategic fit matrix - Rationalization Grid metrics, based on company goals and historical patterns, identify gaps in your organization's pipeline as well as windows of vulnerability.

6. Programming and implementation - This critical phase integrates all internal and externally derived data into a relational database created from the prior matrices.

7. Maintenance, fine tuning, and optimization - Once Rationalization Grid has been implemented, Becker Pharmaceuticals can provide ongoing maintenance and support. Continued use of this service enables healthcare companies to reset their benchmarking criteria or add new metrics to new or previously screened opportunities.



* * * * *



If you would like to learn more about Rationalization Grid and how it can help you and your company, or if you would like to be contacted by one of our account managers, please fill out our Contact Form.